BULK DISCOUNT IS AVAILABLE. CLICK ON THE LINK TO SEE THE SAVINGS: Buy in bulk and save.
We will match any price and beat it by 10% if you find the exact same light on another Canadian retail website.

These powerful 3800lm 48W 16pc BLUE LED Sprayer Lights reduce night eye strain and enhance night spraying over traditional white lights. Normally only 2 lights are required, one for each side of the sprayer. Stainless steel mounting brackets are included with each light. The PMMA lens is extremely durable, UV, scratch and impact resistant, and cleans easily. These lights are water and dust resistant so they will work under all weather conditions. They can also be used in daytime to enhance spray pattern visibility.
MOUNTING:
Each LED sprayer light should be mounted behind the sprayer boom and as close to the pivot as possible, so that the light can illuminate the spray pattern along the entire sprayer boom. These lights use very little power so they can be safely connected to field lights.
FLOOD OR SPOT BEAM?
Flood beam and spot beam are available. Beam selection depends on boom length.
If boom length is less than 30 meters (100 feet) use FLOOD BEAM
If boom length is 30-40 meters (100-138 feet) use SPOT BEAM. Anything larger than 40m it is recommended that another light is used.
SPECIFICATIONS:
Brightness: 3800 lumens
Power: 48W
LED type: 16pc CREE LED
LED color: BLUE
Size: 5.5" diagonally
Light Design: Square body
Beam Pattern: Flood Beam (60 degrees) or Spot Beam (30 degrees)
IP Rating: IP67
Voltage range: 9-32V DC
Power draw: 4.0 Amps@12V, 2.0 Amps@24V
Connector: bare wire with optional Deutch Heavy Duty male and female connectors
Housing Material: High-grade die-cast aluminium
Lens: Polymethyl Methacrylate (PMMA) thermoplastic lens is lightweight, UV, scratch, and impact resistant
Bracket: Stainless Steel
Metric dimensions: 107mm (width) x 137mm (height w/base) x 70mm (depth)
Imperial dimensions: 4.2" (width) x 5.4" (height w/base) x 2.75" (depth)
12 MONTH WARRANTY
Blue LED Sprayer Lights. Night spraying LED lights. Blue LED Boom Lights. Blue LED lights for night spraying.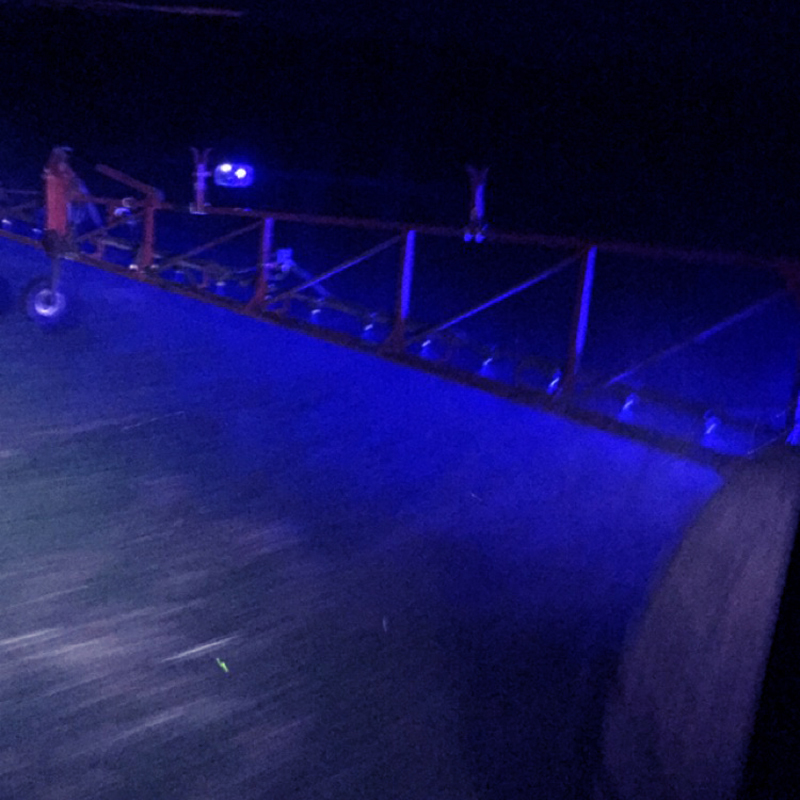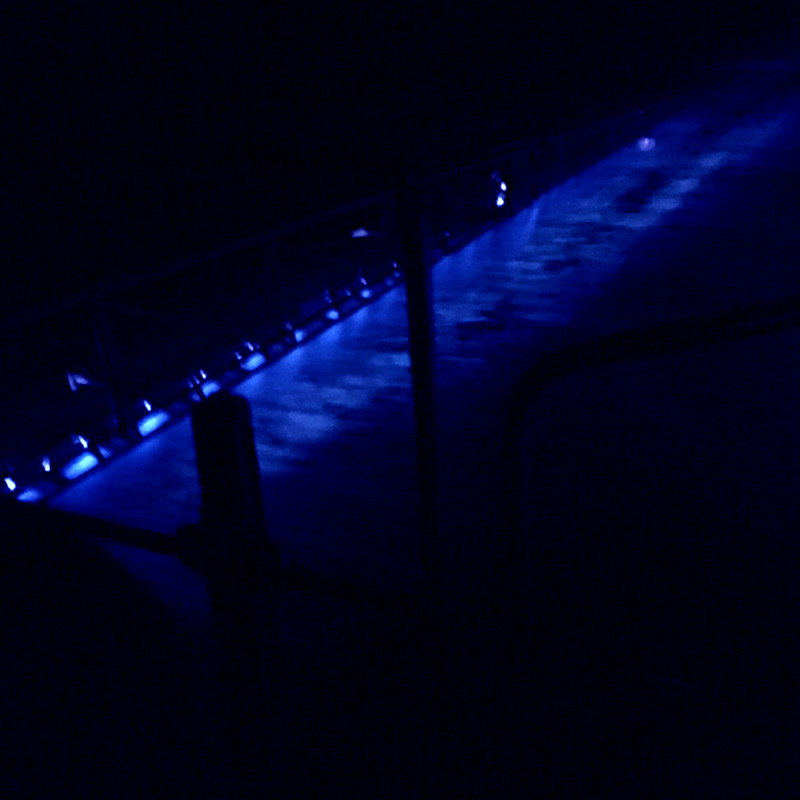 ACTUAL INSTALLATION PHOTOS ON A 120 FOOT BOOM - 1 LIGHT AT PIVOT POINT, 1 LIGHT AT 60 FOOT MIDPOINT.
1 year